Mary-Wynne Ashford, MD, PhD. is a retired Family Physician, with a specialty in Palliative Care. She was Co-President of the International Physicians for Prevention of Nuclear War for four years, and President of Physicians for Global Survival (Canada) for four years. IPPNW received the Nobel Peace Prize in 1985. She has received many awards for her work, including the Governor General's Medal on two occasions, and the Washington Physicians for Social Responsibility Distinguished Physician Award in the name of Sir Paul Beeson. In 2016, the University of Calgary named her as their Distinguished Graduate. She received the 2019 Medal of Excellence from the Doctors of BC and the Cam Coady Foundation. Her award-winning book, Enough Blood Shed: 101 Solutions to Violence, Terror, and War, has been translated into Japanese and Korean. Doctor Ashford and Dr. Jonathan Down received the 2019 National Achievement Award from Canadians for a Nuclear Weapons Convention, an organization of 1000 Members of the Order of Canada who support the Treaty to Prohibit Nuclear Weapons. The award was for their work over the past two years, teaching almost 2000 high school students about nuclear weapons and the Ban Treaty.
Siana Bangura is a writer, producer, performer and community organiser hailing from South East London, now living, working, and creating between London and the West Midlands. Siana is the founder and former editor of Black British Feminist platform, No Fly on the WALL; she is the author of poetry collection, 'Elephant'; and the producer of '1500 & Counting', a documentary film investigating deaths in custody and police brutality in the UK. Siana works and campaigns on issues of race, class, and gender and their intersections and is currently working on projects focusing on climate change, the arms trade, and state violence. Siana is Training & Events Co-ordinator at Campaign Against Arms Trade (CAAT), a UK-based organisation working to end the international arms trade.
Conscious analysis and loving transparency illuminate tender, gutsy, bluesy folk when Claire Bates plays and sings. Claire works as a social worker and singer-songwriter to bring groups of people together and provide musical, spiritual, interpersonal, and intellectual motivation to work for peace. Claire has studied and taught methods of conflict resolution for six years (and informally much longer), a focus inspiring her songs. A career as a social worker with a focus on refugees and veterans deepens her commitment to working to end war and its damages. Claire dedicates acoustic musical efforts toward raising awareness about unjust systems while nourishing community coalitions and connections, knowing that together we make change happen. Her music unites the soulfulness of Eva Cassidy, the bright playful explorations of Joni Mitchell, Woody Guthrie's dogged commitment to expressing realities, and a determination, curiosity, and tenderness of her own. Claire shares her heart songs for hard times.
Mia Beijer is a 16-year-old Social and Climate Justice activist who founded Future Rising Ottawa and started striking weekly in front of parliament in Jan 2019. Being homeschooled with her two older siblings allowed Mia's mum to include activism in their education. Mia has been taking part in protests for Climate Justice, Social Justice, and Indigenous Rights since she was 5 years old. For the past year and a half, Mia has focused her time and devoted her education to being an ally to indigenous front line communities defending their unceded and unsurrendered land and territories, and ultimately, everyone's future and right to safe land and water. Mia is concerned with the increasing militarization and intensifying aggression of our local police and RCMP in response to marginalised and indigenous front line communities. She is also concerned with the disproportionate resources being devoted to militarization and the military industry. Her focus is to amplify indigenous voices and to put pressure on the canadian government responsible for the capitalist and colonialist exploitation of indigenous unceded land. Mia is committed to creating and holding safe space for youth voices to rise and unite throughout the Climate Crisis.
Medea Benjamin is the co-founder of the women-led peace group CODEPINK and the co-founder of the human rights group Global Exchange. She has been an advocate for social justice for more than 40 years. Described as "one of America's most committed — and most effective — fighters for human rights" by New York Newsday, and "one of the high profile leaders of the peace movement" by the Los Angeles Times, she was one of 1,000 exemplary women from 140 countries nominated to receive the Nobel Peace Prize on behalf of the millions of women who do the essential work of peace worldwide. She is the author of ten books, including Drone Warfare: Killing by Remote Control and Kingdom of the Unjust: Behind the U.S.-Saudi Connection. Her most recent book, Inside Iran: The Real History and Politics of the Islamic Republic of Iran, is part of a campaign to prevent a war with Iran and instead promote normal trade and diplomatic relations. Her articles appear regularly in outlets such as The Guardian, The Huffington Post, Common Dreams, Alternet and The Hill.
Simon Black is a professor of labour studies at Brock University and founder of Labour Against the Arms Trade, a coalition of peace and labour activists working to end Canada's participation in the international arms trade. LAAT organizes for arms conversion and a just transition for arms industry workers. @_SimonBlack @LAATCanada
Leah Bolger retired in 2000 from the U.S. Navy at the rank of Commander after twenty years of active duty service. Her career included duty stations in Iceland, Bermuda, Japan and Tunisia and in 1997, was chosen to be the Navy Military Fellow at the MIT Security Studies program. Leah received an MA in National Security and Strategic Affairs from the Naval War College in 1994. After retirement, she became very active in Veterans For Peace, including election as the first woman national president in 2012. Later that year, she was part of a 20-person delegation to Pakistan to meet with the victims of U.S. drones strikes. She is the creator and coordinator of the "Drones Quilt Project," a traveling exhibit which serves to educate the public, and recognize the victims of U.S. combat drones. In 2013 she was selected to present the Ava Helen and Linus Pauling Memorial Peace Lecture at Oregon State University. Currently she serves as the President of the Board of Directors of World BEYOND War.
Shannon Chief: From the Anishnabe Nation of the Ottawa River Watershed (Algonquin), Wolf clans are known for good memory in carrying indigenous knowledge. Shannon has been involved with the people's intent to protect the land, animals and traditional way of life with the land, from land defending, to restoring Indigenous Governance, to building a Land Based Curriculum, to Anishnabe Odinewin Camps and taking part in Climate Change discussions in her homelands. Shannon also led and guided a unified written Women's Declaration at Indigenous Women Against Extractivisim in 2018. Shannon remains loyal to work with the traditional Elders of the Land and offers guidance in shaping PowerShift: Young and Rising.
Former Vice President of the Concordia Student Union, Yves Engler is a Montréal-based activist and author. He has published seven books about Canadian foreign policy. Yves has been dubbed "Canada's version of Noam Chomsky" (Georgia Straight), "one of the most important voices on the Canadian Left" (Briarpatch), and "part of that rare but growing group of social critics unafraid to confront Canada's self-satisfied myths" (Quill & Quire).
Bruce Gagnon is Coordinator of the Global Network Against Weapons and Nuclear Power in Space. Gagnon has worked on space issues for more than 30 years, first as state coordinator of the Florida Coalition for Peace and Justice. Gagnon speaks internationally and has written for publications such as Earth Island Journal, CounterPunch, Z Magazine, Space News, National Catholic Reporter, Asia Times, Le Monde Diplomatique, and Canadian Dimension. He is host of This Issue, a cable TV program that airs in 17 communities in Maine, his home state.
Kelsey Gallagher is a researcher with Project Ploughshares, analyzing Canadian military exports and the broader Canadian arms trade. He is also manager of Project Ploughshares' database on Canadian military production and exports, the most comprehensive of its kind. He has a MA in Peace and Conflict Studies from Conrad Grebel University College, University of Waterloo, and a BA in Political Science from Western University.
Furquan Gehlen works in the industrial automation industry as an Automation Engineer with a background in Electrical Control Systems. He has been a peace and social justice activist since 1985 and has recently furthered his education by completing a 'Certificate in International Development' from UBC in 2012 and completing a Master's degree in Peacebuilding from Royal Roads University in 2016. He is currently Co-Chair of the Vancouver chapter of Canadian Peace Initiative. From 2013 to 2019 he was the National Co-chair of Canadian Peace Initiative. He is a board member of Global Peace Alliance BC Society and is also a founding director of Canadian Muslim Peace Alliance. He is currently chapter coordinator for World BEYOND War's Metro Vancouver chapter and is focused on developing a culture of peace in Canada and around the world. His passion is to make the world a better place by focusing on resolving problems at the root cause level and in a sustainable way. His goal is to have society progress so that war is no longer considered an acceptable activity for humans. Born in Newcastle, England and living in the Metro Vancouver region since 1973, Furquan currently lives in North Delta with his wife and three children.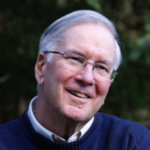 William Geimer is an author, peace activist, a veteran of the U.S. 82d Airborne Division and Professor of Law Emeritus, Washington and Lee University. After resigning his commission in opposition to the war on Vietnam, he represented conscientious objectors and advised peace groups near Ft. Bragg NC, once representing Jane Fonda, Dick Gregory and Donald Sutherland in negotiations with police. A Canadian citizen, he lives with his wife, Elizabeth Bennett, near Victoria, British Columbia where he is chapter coordinator for World BEYOND War Victoria. He is the author of Canada: The Case for Staying Out of Other People's Wars and served as advisor on policy issues of peace and war to Elizabeth May, Member of Parliament and Leader of the Green Party of Canada. Bill has a special interest in outreach to faith communities on these issues.
Phill Gittins, PhD, is World BEYOND War's Education Director. He has 15+ years of programming, analysis, and leadership experience in the areas of peace, education, and youth. He has particular expertise in context-specific approaches to peace programming; peacebuilding education; and youth inclusion in research and action. He holds a PhD in International Conflict Analysis, MA in Education, and BA in Youth and Community Studies. Phill has received multiple awards for his contributions to peace and conflict work, including the Rotary Peace Fellowship.
Sandy Greenberg is a musician who engages and delights audiences with her clear, strong voice and masterful guitar playing. She's also a dedicated peace activist with both Canadian and Nova Scotia Voice of Women for Peace (VOW and NSVOW). Her songs can be poignant or funny, reflective or upbeat, old or new. Sandy has sung at the World Peace Forum, International Women's Day, the December 6 Day of Remembrance and Action on Violence Against Women, and at VOW vigils, rallies and conferences. With the women's singing group, Clearing by Noon, she recorded the album, "Singing for Peace". Sandy is also one-half of the bilingual (English and French) award-winning duo, Razzmatazz for Kids, which tours internationally with their fun and up-beat interactive concerts for families with young children, educational and inspiring elementary school concerts, and peace workshops.
Doug Hewitt-White is the president of Conscience Canada, and is retired from a public service career in creative and communications services. Conscience Canada is a national military tax resistance group that has worked for over 35 years to promote a change in law to allow Canadians the right to conscientiously object to military taxation as a right of conscience guaranteed in the Canadian Charter of Rights and Freedoms. Conscience Canada maintains a Peace Tax Fund where Conscientious Objectors to military taxation can deposit the military portion of their taxes.
Dr. Peter Jones is a professor at Toronto's OCAD University, where he teaches in the Master of Design Strategic Foresight and Innovation program. Peter conducts design studies for redesign of social and community systems for flourishing, focusing on health, environment, planning and public policy, and business. Peter convenes community-based dialogues in Toronto, with Design with Dialogue and as a founder of Unify Toronto Dialogues, engaging civil society and creatives in conversations for change, decolonization, and social economic alternatives to the present course of globalized capitalism.
Kathy Kelly co-coordinates Voices for Creative Nonviolence (www.vcnv.org), a campaign to end U.S. military and economic warfare. Kathy has lived in active combat zones in Iraq, Afghanistan, Bosnia, Haiti, Lebanon, Gaza, and Palestine. Kathy and her companions lived in Baghdad throughout the 2003 "Shock and Awe" bombing. During each of several recent trips to Afghanistan, Kathy, as an invited guest of the Afghan Peace Volunteers, has lived alongside ordinary Afghan people in a working class neighborhood in Kabul. She was sentenced to one year in federal prison for planting corn on nuclear missile silo sites (1988-89), and spent three months in prison in 2004 for crossing the line at Fort Benning's military training school. As a war tax refuser, she has refused payment of all forms of federal income tax since 1980.
Ella Lake is a 15 year old social justice and climate activist. She is a co-founder and leader of Chelsea Youth, a local youth led community and environmental group. She has also been involved with Future Rising Ottawa, and holds a position as a Youth Water Leader with Ottawa Riverkeeper. She is also one of the young people starting the union of politically active youth in the region. She feels strongly that social justice is a necessary step when speaking about climate action, and is honoured to have the opportunity to moderate at No War 2020!
Tamara Lorincz is a PhD student in Global Governance at the Balsillie School for International Affairs (Wilfrid Laurier University). Tamara graduated with an MA in International Politics & Security Studies from the University of Bradford in the United Kingdom in 2015. She was awarded the Rotary International World Peace Fellowship and was a senior researcher for the International Peace Bureau in Switzerland. Tamara is currently on the board of the Canadian Voice of Women for Peace and the international advisory committee of Global Network Against Nuclear Power and Weapons in Space. She is a member of the Canadian Pugwash Group and the Women's International League for Peace and Freedom. Tamara was a co-founding member of the Vancouver Island Peace and Disarmament Network in 2016. Tamara has an LLB/JSD and MBA specializing in environmental law and management from Dalhousie University. She is the former Executive Director of the Nova Scotia Environmental Network and co-founder of the East Coast Environmental Law Association. Her research interests are the military's impacts on the environment and climate change, the intersection of peace and security, gender and international relations, and military sexual violence.
Peggy Mason: A former Canadian Ambassador for Disarmament to the UN, Peggy Mason is now the President of the Rideau Institute, an independent, non-profit think tank focusing on research and advocacy on Canadian foreign and defence policy. She brings a progressive voice to issues ranging from the imperative of nuclear disarmament to the centrality of UN conflict resolution, appearing regularly in the blogosphere, in print media and on radio and television. A particular focus of her work at the Rideau Institute, in concert with a coalition of NGOs including Amnesty International, Project Ploughshares and Oxfam Quebec, has been the strengthening of Canadian legislation on the export of military equipment in order to bring it more in line with the global standards enshrined in the Arms Trade Treaty.
Alex McAdams is an activist and artist and is World BEYOND War's Development Director. She has worked as a content producer, advocate, and director of development for various arts, social justice, and civil rights organizations. With a B.A. from the University of Vermont in Women's Studies and Philosophy and a J.D. with a focus in civil rights from CUNY School of Law, much of Alex's work has focused on giving voice to and advocating for the rights and protections of marginalized communities. Alex's anti-war work started as a member and organizer for Food Not Bombs and then as an organizer and co-producer of the original Not In Our Name event that took place in NYC following September 11 in response to the U.S. government's unjustified militaristic response. Several years ago, she spent time in Vietnam working on a photography project to document the continued environmental and health effects of Agent Orange, which was used by the U.S. military during the American/Vietnam War. While there, she worked with the Vietnam Friendship Village which was started by an American/Vietnam War veteran to serve and provide residence for orphaned children who suffered physical and mental disabilities because of the U.S. military's use of chemical warfare. The organization's mission to advocate for cross-cultural dialogue around the long-term effects of war while pushing for non-violent conflict resolution was the impetus behind Alex's own passion for peace and interest in finding alternatives to war in the face of conflict. Alex currently lives in Canada with her partner and two dogs but is originally from the New York and Boston areas.
Bruce Moncur served in the Canadian forces for ten years where he was injured in Operation Medusa having been shot in an American friendly fire incident. He spent another ten years advocating for his rightful pension and the pensions of his peers. After being released from the military Bruce met his partner Niki Ashton and they have twin boys.
Karl Nerenberg has been the parliamentary correspondent for the online newspaper rabble.ca since 2011. Previously, he worked for both the English and French language services of CBC, in a variety of capacities. He was a producer for the television newsmagazines Le Point and The Journal and senior editor of CBC Radio's The House. Karl has written, directed and produced numerous long-form reports and documentaries, both for broadcast and educational use, among them the 2010 feature length film Never Come Back, which deals with the current situation of the Roma (or Gypsy) people, in Canada and in Europe. Karl also worked in the NGO world, as head of communications for the Canadian Institute for Health Information, Cuso International and the Forum of Federations, and as manager of policy for Volunteer Canada. He has been awarded a Gemini television award, a Best International Reportage award from la Communauté des televisions francophones, and a CBC Radio Award, among others. These days, Karl plays jazz piano regularly in pubs and other venues in Ottawa.
Ottawa Raging Grannies say what we think about peace, climate change, justice, equality, and politics, and we say it in satirical songs. We write our own satirical lyrics to familiar tunes, dress in old fashioned "granny" clothes and outrageous hats. We perform at rallies, demonstrations, protest meetings – and sometimes in "guerilla fashion" on our own. As Raging Grannies we dedicate our efforts to the children of the world in hope that they may live in peace and harmony, safe from pollution and war. Watch a clip from our "CANSEX not CANSEC" protest songs.
Brent Patterson is the Executive Director of Peace Brigades International-Canada as well as an Extinction Rebellion activist, and Rabble.ca writer. Brent was active with Tools for Peace and the Canadian Light Brigade in support of revolutionary Nicaragua in the late 1980s and early 1990s, advocated for the rights of prisoners in jails and federal prisons as the Advocacy and Reform staff person with the John Howard Society of Metropolitan Toronto, participated in protests at the Battle of Seattle and at the UN climate summits in Copenhagen and Cancun, and has taken part in numerous non-violent civil disobedience actions. He previously organized community mobilizations at City Hall/Metro Hall and anti-corporate rule bus tours in Toronto through the Metro Network for Social Justice, then supported cross-country grassroots activism as the Political Director at The Council of Canadians for almost 20 years before joining Peace Brigades International-Canada. Brent has a BA in Political Science from the University of Saskatchewan and an MA in International Relations from York University. He lives in Ottawa on the traditional, unceded and unsurrendered territories of the Algonquin nation.
Helen Peacock, BSc MSc is a retired corporate executive, and Past President of the International Enneagram Association. She spent twenty years on the Operations and Systems side of large organizations, and another ten running her own consulting company in which she offered Leadership and Teambuilding retreats for corporate groups. Helen has been interested in peace since her early 20s (both inner peace and world peace). Most recently she founded Pivot2Peace, an organization based in South Georgian Bay that is committed to "consciousness raising" – one person at a time, one group at a time, one country at a time – so that we, as a society, no longer tolerate war as a way to resolve conflict. On International Peace Day (Sept 21, 2019) Pivot2Peace organized an inspiring and educational evening, with live music and dancing and a Peace Wall on which guests posted Peace Pledges. Pivot2Peace is also proud to be the South Georgian Bay Chapter for WBW and a Sponsor of #NoWar2020.
Katie Perfitt is a National Organizer with 350.org, supporting people-powered movements across Canada organizing to tackle the climate crisis. She first got involved with community organizing during her time living in Halifax, with Divest Dal, a campaign to get Dalhousie University to divest their endowment from the world's top 200 oil and gas companies — companies bigging up and burning climate-destroying fossil fuels and perpetrating heinous human rights abuses around the globe. Since then she's been involved in campaigns to keep fossil fuels in the ground, including training hundreds of people to take non-violent direct action at the gates of the Kinder Morgan facility on Burnaby Mountain. She has also supported leaders in hundreds of communities from coast to coast to mobilize in solidarity with communities on the frontlines of these projects, in order to bring national attention to the Indigenous rights violations and climate impacts these projects bring. She's excited to now be supporting an emerging and powerful movement of young people from every corner of the country who are asserting a vision for a just future beyond fossil fuels through a Green New Deal for Canada. She believes that through community, art, and the practice of storytelling, we can build the kind of people-powered movements we need to take down the fossil fuel industry.
Te Ao Pritchard is from Ngāti Kahu, Ngāpuhi (Aotearoa/New Zealand) and Vaigaga (Samoan). She is an indigenous rights activist, takatāpui (two spirit), movement capacity building facilitator and trainer, community engagement specialist, and practitioner consultant. She is currently completing a PGrad Dip in Arts – Psychology (Massey University) and Tāhuhu Ahunga Tikanga – Master of Māori Laws and Philosophy (Te Wānanga o Raukawa). Te Ao is a co-founder of Pacific Panthers – connecting with Pacific synergies, utilising indigenous knowledge and practices to strengthen communities in resistance against colonisation; a founding member of Auckland Peace Action and a lifelong community organiser. Te Ao designed specific Indigenous responses to New Zealand's 2016 Weapons Expo, as well as working with the wider peace action groups across the country to train people in non-violent direct action and media messaging responding for the 2016-18 Weapons Expos in NZ.
Liz Remmerswaal is a World BEYOND War board member and the national chapter coordinator for WBW Aotearoa/New Zealand. She is a former vice-president of Women's International League for Peace and Freedom NZ and was part of the successful coalition of peace activists who instigated the cancellation of the national arms fair in 2019. Liz is a co-founder of the Pacific Peace Network and has close ties with the Independent and Peaceful Australia Network. She has spoken at and shown films at peace conferences and gatherings in NZ, Australia, Canada, Ireland, Prague and Vienna as well as a spoken at a rally outside the White House and been interviewed on Afghan TV. She has a background in journalism, politics and environmental activism and has four grownup children. Liz is inspired by the Quaker Grannies for Peace with their creative approach to peacemaking, and with others has enjoyed biking to the Pine Gap spy base in Alice Springs, planting an olive tree in the Hague Peace Palace and singing songs and making tea parties beside warships. In 2017 she was awarded the Sonia Davies Peace Award. Liz lives with her husband on the East Coast of the North Island.
Richard Sanders is a researcher/writer/activist who has engaged full-time in the peace movement since 1984 when he escaped academia with an MA in cultural anthropology. His efforts to debunk Canada's peace mythology began when coordinating Ottawa's Peace Resource Centre, producing a community anti-war radio program for almost 20 years, and being a local organizer with the Alliance for Nonviolent Action which culminated in the arrest of 150 at ARMX '89, predecessor of CANSEC. In late 1988, he founded the Coalition to Oppose the Arms Trade (COAT.ncf.ca). Its initial disARMX campaign, which included a conference, public inquiry, and march/rally of several thousand, precipitated Ottawa's 20-year ban on arms bazaars. COAT's magazine, Press for Conversion!, which he has produced since 1990, continues to expose Canadian militarism. He has written on Canada's arms exports, Canadian pension investments in weapons industries, Canadian military participation in the Iraq war, Canadian NGO support for the coup in Haiti, and the unassailable myth of Canada itself, a fiction based on genocide, xenophobia, land plunder and imperialism.
Susi Snyder is the project lead for the PAX No Nukes project. She also coordinates the Don't Bank on the Bomb research and campaign. She is an expert on nuclear weapons, with over two decades experience working at the intersect between nuclear weapons and human rights. In addition to the annual Don't Bank on the Bomb reports, Susi has published numerous reports and articles, including Banned but Allied: Next steps for NATO Alliance members after the adoption of the Treaty on the Prohibition of Nuclear Weapons (2018). Susi has also contributed to a number of recent books, including Sleepwalking to Armageddon: The Threat of Nuclear Annihilation (2017) and War and Environment Reader (2018). Susi represents PAX on the International Steering Group of the 2017 Nobel Peace Prize winning International Campaign to Abolish Nuclear Weapons. Susi is a 2016 Nuclear Free Future Award Laureate. Previously, Mrs. Snyder served as the Secretary General of the Women's International League for Peace and Freedom (WILPF) at their Geneva secretariat, and she is still President of the WILPF United Nations Office. She was named Hero of Las Vegas in 2001 for her work with Indigenous populations against US nuclear weapons development and nuclear waste dumping. Susi currently lives in Utrecht, the Netherlands with her husband and son.
Colin Stuart is now in his mid seventies and has been active in his adult life in the peace and justice movements. He lived in Thailand for two years during the Vietnam war and there came to understand the importance of active opposition to war and the place of compassion especially in finding a place for war resisters and refugees in Canada. Colin also lived for a time in Botswana. While working there he played a small part in supporting Movement and labour activists in the struggle against the racist regime in South Africa. For ten years Colin taught a variety of courses in politics, cooperatives and community organizing in Canada and internationally in Asia and East Africa. Colin has been both a reservist and active participant with Christian Peacemaker Teams actions in Canada and Palestine. He has worked at the grassroots in Ottawa both as a researcher and organizer. His primary continuing concerns, in the context of the climate crisis, are Canada's insidious place in the weapons trade, particularly as an accomplice to U.S. corporate and state militarism, and the urgency of reparations and restoration of indigenous lands to indigenous people. Colin has academic degrees in Arts, Education and Social Work. He is a Quaker in his 50th year of marriage, has two daughters and a grandson.
Mary Beth Sullivan lives in Brunswick, Maine, near the General Dynamics-owned Bath Iron Works, where naval destroyers, fitted with Aegis weapons systems, continue to be built. She is a social worker who attempts to serve the needs of a growing homeless population in a time of diminishing resources. She is also active with the Global Network Against Weapons and Nuclear Power in Space.
David Swanson is an author, activist, journalist, and radio host. He is executive director of World BEYOND War and campaign coordinator for RootsAction.org. Swanson's books include War Is A Lie and When the World Outlawed War. He blogs at DavidSwanson.org and WarIsACrime.org. He hosts Talk Nation Radio. He is a Nobel Peace Prize Nominee. Swanson was awarded the 2018 Peace Prize by the U.S. Peace Memorial Foundation.
Dave Webb is a past-member of the World BEYOND War Coordinating Committee and chair of the UK Campaign for Nuclear Disarmament (CND), and well as Vice President of the International Peace Bureau (IPB), and the Convenor of the Global Network Against Weapons and Nuclear Power in Space. Webb is an Emeritus Professor of Peace and Conflict Studies at Leeds Beckett University (previously Leeds Metropolitan University). Webb has been involved in the campaign to scrap the UK Trident nuclear weapons system and has also focused on campaigning to close two U.S. bases in Yorkshire (where he lives) – Fylingdales (a missile defence radar base) and Menwith Hill (the huge NSA spy base).
Lynda Williams is a physics professor who has been actively working with the Global Network Against Weapons and Nuclear Power in Space for over two decades to prevent war in space. Her expertise is missile defense, nuclear power, weapons and space development. Most recently she has been organizing in Hawaii with indigenous communities to help prevent the expansion of missile defense and the construction of the Homeland Defense Radar on sacred Hawaiian lands. Lynda is also a singer songwriter and performance artist whose passion is to educate, entertain and empower with music and science. For more information check out her website: http://lyndalovon.blogspot.com/.
Greta Zarro is Organizing Director for World BEYOND War. She has a background in issue-based community organizing. Her experience includes volunteer recruitment and engagement, event organizing, coalition building, legislative and media outreach, and public speaking. Greta graduated as valedictorian from St. Michael's College with a bachelor's degree in Sociology/Anthropology. She then pursued a master's in Food Studies at New York University before accepting a full-time community organizing job with leading non-profit Food & Water Watch. There, she worked on issues related to fracking, genetically engineered foods, climate change, and the corporate control of our common resources. She and her partner currently live in an off-grid tiny home on their organic fruit and vegetable farm in Upstate New York.