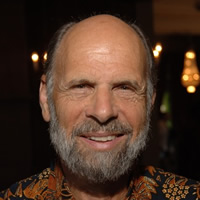 Saul Arbess is Co-Founder and was National Co-Chair, 2005-2011, and currently a Director, of the Global Alliance for Ministries and Infrastructures for Peace (GAMIP), representing 50+ country representatives, including 5 countries and one autonomous region with Ministries of Peace. We are working in concert with other countries to form ministries of peace in all nations. He is also a Co-Founder and currently a Director of the Canadian Peace Initiative (CPI). He is Co-Founder of Restorative Justice Victoria. He was a Professor of Anthropology (retired) with faculty positions at several Canadian universities. He specializes in: intercultural education, especially First Nations; rapid social change in the Arctic; and cultural adaptation in the American Southwest. Arbess was Director, First Nations Education, Province of British Columbia, 1976-1983, a period of significant expansion of the program for First Nations students with the direct involvement of that community in all aspects of the program.
Siana Bangura is a writer, producer, performer and community organiser hailing from South East London, now living, working, and creating between London and the West Midlands. Siana is the founder and former editor of Black British Feminist platform, No Fly on the WALL; she is the author of poetry collection, 'Elephant'; and the producer of '1500 & Counting', a documentary film investigating deaths in custody and police brutality in the UK. Siana works and campaigns on issues of race, class, and gender and their intersections and is currently working on projects focusing on climate change, the arms trade, and state violence. Siana is Training & Events Co-ordinator at Campaign Against Arms Trade (CAAT), a UK-based organisation working to end the international arms trade.
Simon Black is a professor of labour studies at Brock University and founder of Labour Against the Arms Trade, a coalition of peace and labour activists working to end Canada's participation in the international arms trade. LAAT organizes for arms conversion and a just transition for arms industry workers. @_SimonBlack @LAATCanada
Leah Bolger retired in 2000 from the U.S. Navy at the rank of Commander after twenty years of active duty service. Her career included duty stations in Iceland, Bermuda, Japan and Tunisia and in 1997, was chosen to be the Navy Military Fellow at the MIT Security Studies program. Leah received an MA in National Security and Strategic Affairs from the Naval War College in 1994. After retirement, she became very active in Veterans For Peace, including election as the first woman national president in 2012. Later that year, she was part of a 20-person delegation to Pakistan to meet with the victims of U.S. drones strikes. She is the creator and coordinator of the "Drones Quilt Project," a traveling exhibit which serves to educate the public, and recognize the victims of U.S. combat drones. In 2013 she was selected to present the Ava Helen and Linus Pauling Memorial Peace Lecture at Oregon State University. Currently she serves as the President of the Board of Directors of World BEYOND War.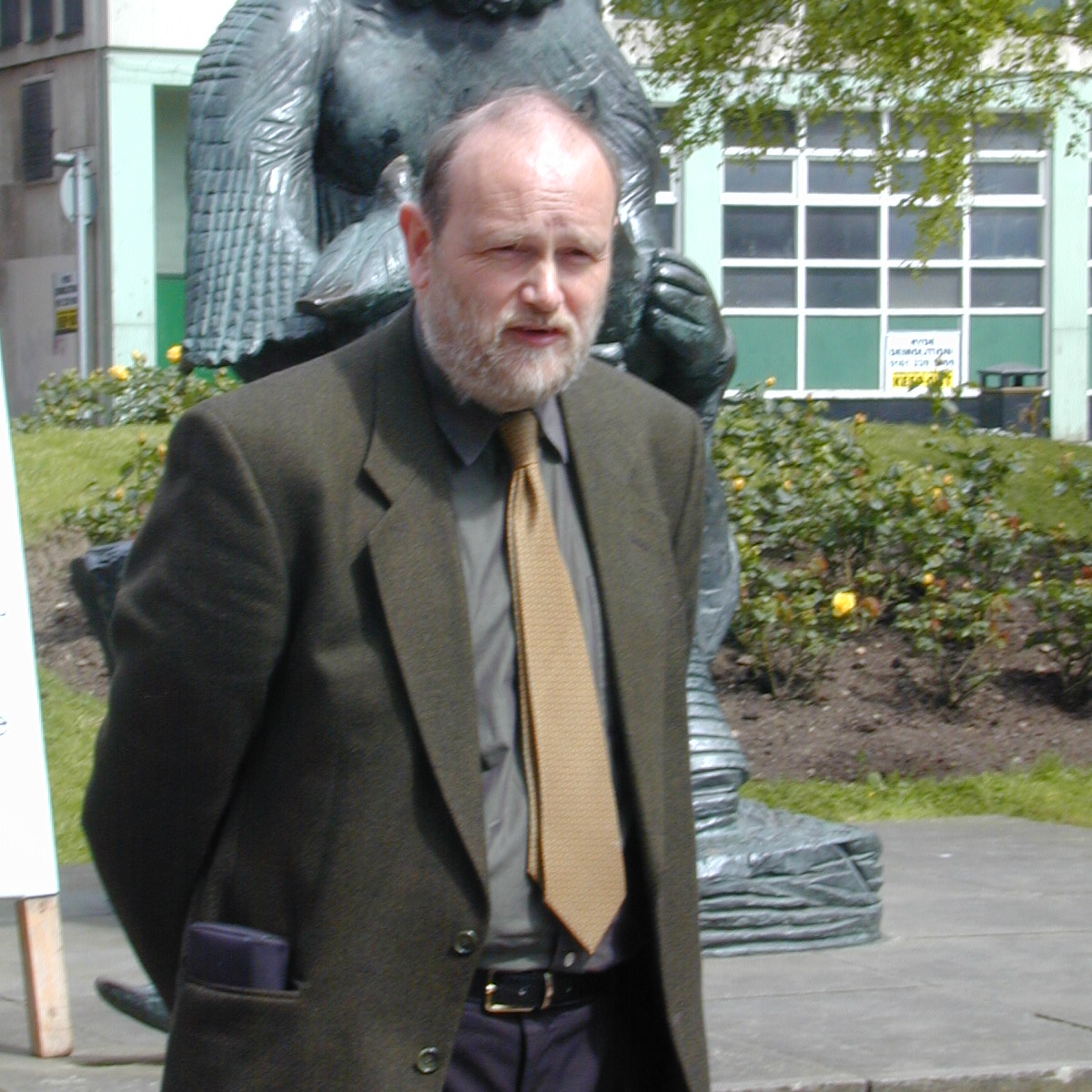 Robin Brookes has been a war tax resister for the last 18 years. He is a director and committee member of Conscience – Taxes for Peace Not War in England. He is also the chair of Conscience and Peace Tax International, which has consultative status at the UN. In 2003 he joined with six others to challenge the British Government with a judicial review on the right for conscientious objectors to divert their taxes away from military spending. They called themselves the Peace Tax Seven and more about them can be found on Conscience's website.
Shannon Chief: From the Anishnabe Nation of the Ottawa River Watershed (Algonquin), Wolf clans are known for good memory in carrying indigenous knowledge. Shannon has been involved with the people's intent to protect the land, animals and traditional way of life with the land, from land defending, to restoring Indigenous Governance, to building a Land Based Curriculum, to Anishnabe Odinewin Camps and taking part in Climate Change discussions in her homelands. Shannon also led and guided a unified written Women's Declaration at Indigenous Women Against Extractivisim in 2018. Shannon remains loyal to work with the traditional Elders of the Land and offers guidance in shaping PowerShift: Young and Rising.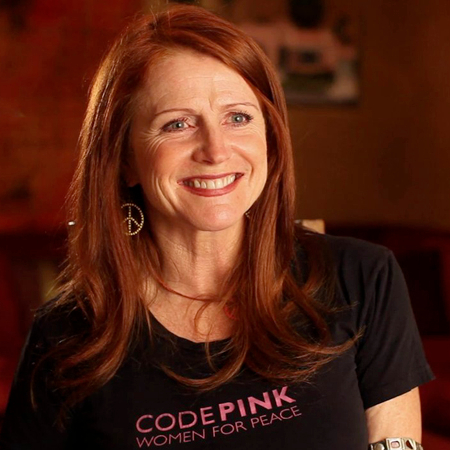 Jodie Evans has been a peace, environmental, women's rights and social justice activist for over forty-five years. She is the co-founder of CODEPINK that works to stop US Military interventions overseas and promotes diplomatic solutions and Peace. She served in the administration of Governor Jerry Brown and ran his presidential campaigns. She published two books, "Stop the Next War Now" and "Twilight of Empire," and produced several documentary films, including the Oscar and Emmy-nominated "The Most Dangerous Man in America," "The Square," and Naomi Klein's "This Changes Everything." She sits on many boards, including 826LA, Rainforest Action Network, Institute for Policy Studies and the California Arts Council.
Bruce Gagnon is Coordinator of the Global Network Against Weapons and Nuclear Power in Space. Gagnon has worked on space issues for more than 30 years, first as state coordinator of the Florida Coalition for Peace and Justice. Gagnon speaks internationally and has written for publications such as Earth Island Journal, CounterPunch, Z Magazine, Space News, National Catholic Reporter, Asia Times, Le Monde Diplomatique, and Canadian Dimension. He is host of This Issue, a cable TV program that airs in 17 communities in Maine, his home state.
Kelsey Gallagher is a researcher with Project Ploughshares, analyzing Canadian military exports and the broader Canadian arms trade. He is also manager of Project Ploughshares' database on Canadian military production and exports, the most comprehensive of its kind. He has a MA in Peace and Conflict Studies from Conrad Grebel University College, University of Waterloo, and a BA in Political Science from Western University.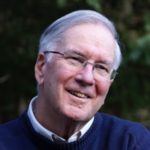 William Geimer is an author, peace activist, a veteran of the U.S. 82d Airborne Division and Professor of Law Emeritus, Washington and Lee University. After resigning his commission in opposition to the war on Vietnam, he represented conscientious objectors and advised peace groups near Ft. Bragg NC, once representing Jane Fonda, Dick Gregory and Donald Sutherland in negotiations with police. A Canadian citizen, he lives with his wife, Elizabeth Bennett, near Victoria, British Columbia where he is chapter coordinator for World BEYOND War Victoria. He is the author of Canada: The Case for Staying Out of Other People's Wars and served as advisor on policy issues of peace and war to Elizabeth May, Member of Parliament and Leader of the Green Party of Canada. Bill has a special interest in outreach to faith communities on these issues.
Phill Gittins, PhD, is World BEYOND War's Education Director. He has 15+ years of programming, analysis, and leadership experience in the areas of peace, education, and youth. He has particular expertise in context-specific approaches to peace programming; peacebuilding education; and youth inclusion in research and action. He holds a PhD in International Conflict Analysis, MA in Education, and BA in Youth and Community Studies. Phill has received multiple awards for his contributions to peace and conflict work, including the Rotary Peace Fellowship.
Doug Hewitt-White is the president of Conscience Canada, and is retired from a public service career in creative and communications services. Conscience Canada is a national military tax resistance group that has worked for over 35 years to promote a change in law to allow Canadians the right to conscientiously object to military taxation as a right of conscience guaranteed in the Canadian Charter of Rights and Freedoms. Conscience Canada maintains a Peace Tax Fund where Conscientious Objectors to military taxation can deposit the military portion of their taxes.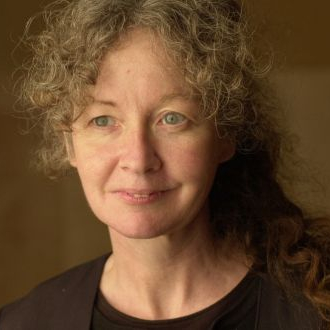 Kathy Kelly co-founded and helped coordinate Voices in the Wilderness and Voices for Creative Nonviolence (1996 – 2020). She has lived in active combat zones in Iraq, Afghanistan, Bosnia, Haiti, Lebanon, and Gaza. Kathy and her companions organized 70 delegations to defy economic sanctions against Iraq and lived in Baghdad throughout the 2003 "Shock and Awe" bombing. During each of thirty trips to Afghanistan, Kathy learned from and helped support Afghan Peace Volunteer projects. For crossing lines at U.S. military bases, she was sentenced to U.S. federal prison three times; the longest sentence was one year for planting corn on nuclear missile silo sites at Whiteman AFB. As a war tax refuser, she has refused payment of all forms of federal income tax since 1980.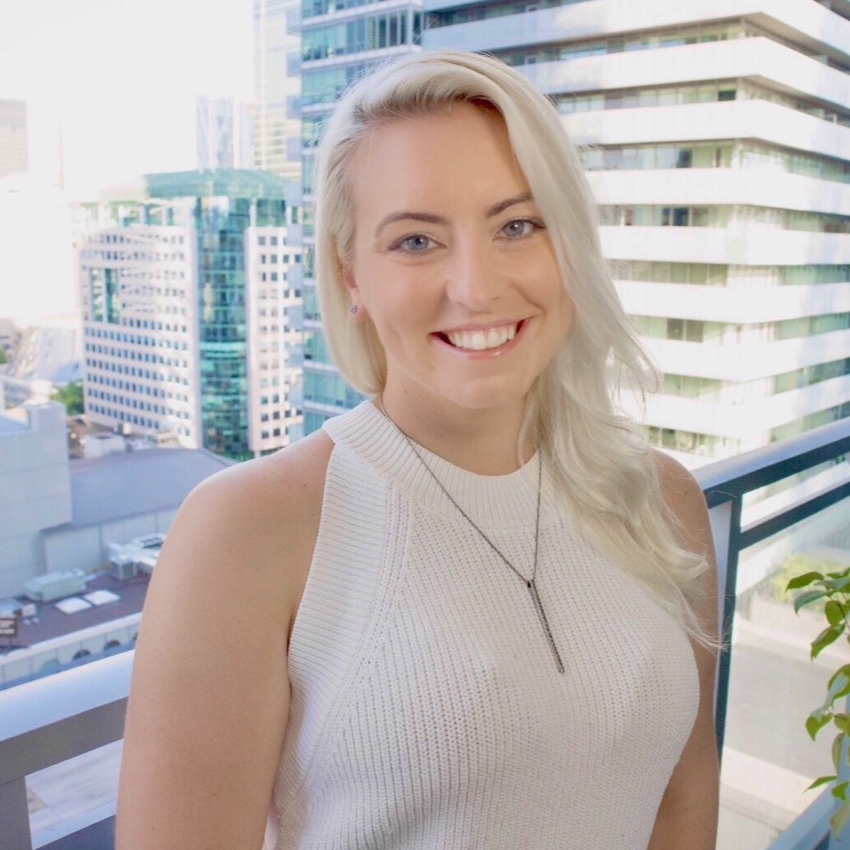 Vanessa Lanteigne is the current National Coordinator at the Canadian Voice of Women for Peace which is Canada's longest-running national women's peace organization. Vanessa has worked in a variety of roles in non-profits around the world. In Tanzania, she worked at an organization to end child marriage and promote the rights of children. In Ghana as a facilitator for youth livelihood skills, she facilitated training for over 1,000 youth and was a part of a team that rolled out the Innovation Fund for green entrepreneurs that was replicated in five other countries. In Canada, she mentored high school students on environmental action projects and greening large-scale events. She recently placed in the UN 75 words for disarmament youth challenge and launched a joint initiative called Project Bombs Away with Science for Peace. Vanessa can be reached at vanessa@vowpeace.org.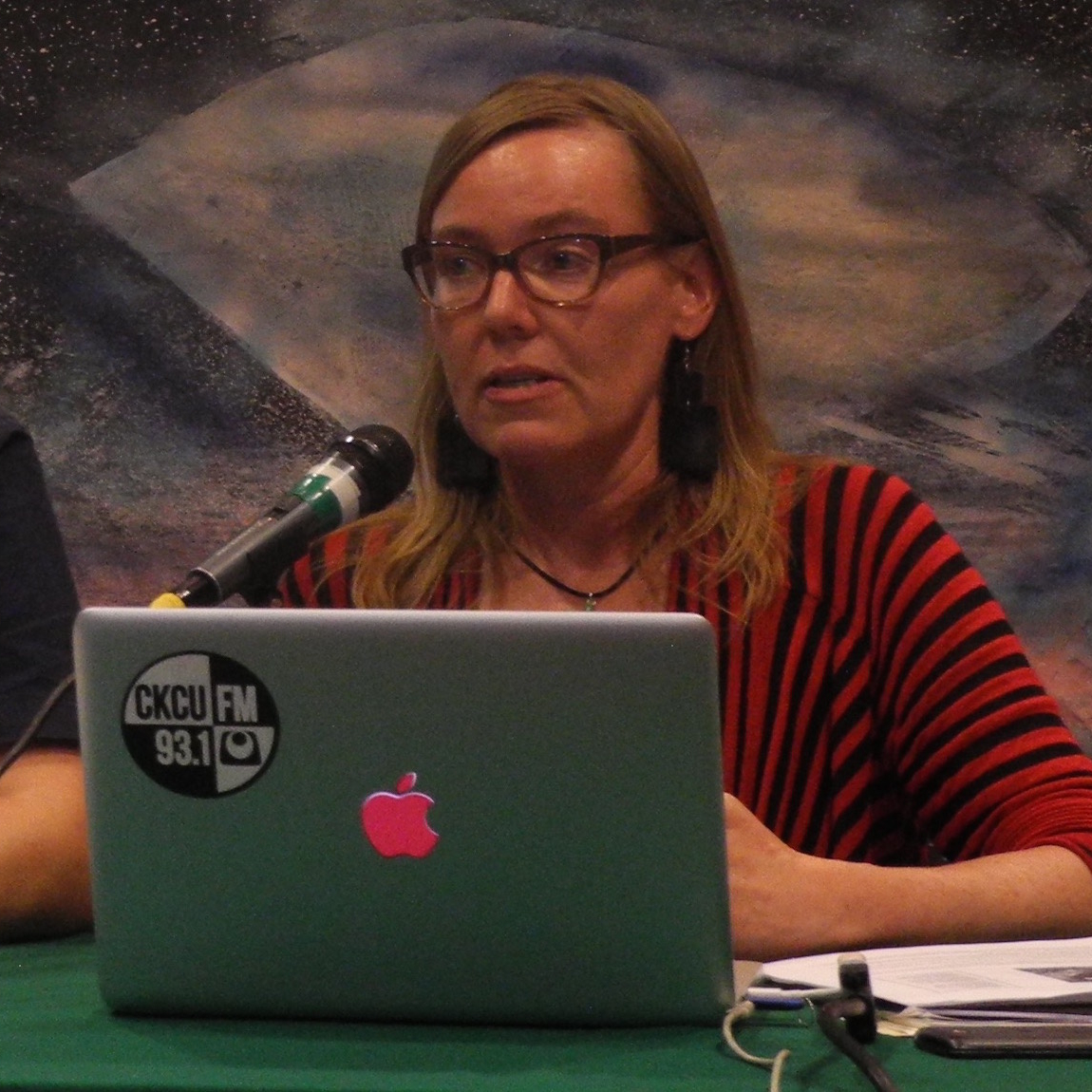 Jen Moore is an activist, writer and researcher who works in close collaboration with the struggles of mining-affected communities and allied organizations in Latin America, Canada and other parts of the world. She is currently an Associate Fellow with the mining and trade project at the Institute for Policy Studies and is completing a Master's degree in Adult Education and Community Development at the University of Saint Francis Xavier in Nova Scotia, Canada. Her studies focus on strengthening collaborations between allied organizations and mining affected people making use of participatory corporate research. From 2010 to 2018, she coordinated the Latin America Program at MiningWatch Canada, which supports processes of territorial defense and efforts to obtain justice for harms associated with the activities of Canadian mining companies and Canadian foreign affairs in the region. While at MiningWatch, she helped adapt a strategic corporate research tool for use in mining struggles.
Bruce Moncur served in the Canadian forces for ten years where he was injured in Operation Medusa having been shot in an American friendly fire incident. He spent another ten years advocating for his rightful pension and the pensions of his peers. After being released from the military Bruce met his partner Niki Ashton and they have twin boys.
Brent Patterson is the Executive Director of Peace Brigades International-Canada as well as an Extinction Rebellion activist, and Rabble.ca writer. Brent was active with Tools for Peace and the Canadian Light Brigade in support of revolutionary Nicaragua in the late 1980s and early 1990s, advocated for the rights of prisoners in jails and federal prisons as the Advocacy and Reform staff person with the John Howard Society of Metropolitan Toronto, participated in protests at the Battle of Seattle and at the UN climate summits in Copenhagen and Cancun, and has taken part in numerous non-violent civil disobedience actions. He previously organized community mobilizations at City Hall/Metro Hall and anti-corporate rule bus tours in Toronto through the Metro Network for Social Justice, then supported cross-country grassroots activism as the Political Director at The Council of Canadians for almost 20 years before joining Peace Brigades International-Canada. Brent has a BA in Political Science from the University of Saskatchewan and an MA in International Relations from York University. He lives in Ottawa on the traditional, unceded and unsurrendered territories of the Algonquin nation.
Katie Perfitt is a National Organizer with 350.org, supporting people-powered movements across Canada organizing to tackle the climate crisis. She first got involved with community organizing during her time living in Halifax, with Divest Dal, a campaign to get Dalhousie University to divest their endowment from the world's top 200 oil and gas companies — companies bigging up and burning climate-destroying fossil fuels and perpetrating heinous human rights abuses around the globe. Since then she's been involved in campaigns to keep fossil fuels in the ground, including training hundreds of people to take non-violent direct action at the gates of the Kinder Morgan facility on Burnaby Mountain. She has also supported leaders in hundreds of communities from coast to coast to mobilize in solidarity with communities on the frontlines of these projects, in order to bring national attention to the Indigenous rights violations and climate impacts these projects bring. She's excited to now be supporting an emerging and powerful movement of young people from every corner of the country who are asserting a vision for a just future beyond fossil fuels through a Green New Deal for Canada. She believes that through community, art, and the practice of storytelling, we can build the kind of people-powered movements we need to take down the fossil fuel industry.
Te Ao Pritchard is from Ngāti Kahu, Ngāpuhi (Aotearoa/New Zealand) and Vaigaga (Samoan). She is an indigenous rights activist, takatāpui (two spirit), movement capacity building facilitator and trainer, community engagement specialist, and practitioner consultant. She is currently completing a PGrad Dip in Arts – Psychology (Massey University) and Tāhuhu Ahunga Tikanga – Master of Māori Laws and Philosophy (Te Wānanga o Raukawa). Te Ao is a co-founder of Pacific Panthers – connecting with Pacific synergies, utilising indigenous knowledge and practices to strengthen communities in resistance against colonisation; a founding member of Auckland Peace Action and a lifelong community organiser. Te Ao designed specific Indigenous responses to New Zealand's 2016 Weapons Expo, as well as working with the wider peace action groups across the country to train people in non-violent direct action and media messaging responding for the 2016-18 Weapons Expos in NZ.
Liz Remmerswaal is a World BEYOND War board member and the national chapter coordinator for WBW Aotearoa/New Zealand. She is a former vice-president of Women's International League for Peace and Freedom NZ and was part of the successful coalition of peace activists who instigated the cancellation of the national arms fair in 2019. Liz is a co-founder of the Pacific Peace Network and has close ties with the Independent and Peaceful Australia Network. She has spoken at and shown films at peace conferences and gatherings in NZ, Australia, Canada, Ireland, Prague and Vienna as well as a spoken at a rally outside the White House and been interviewed on Afghan TV. She has a background in journalism, politics and environmental activism and has four grownup children. Liz is inspired by the Quaker Grannies for Peace with their creative approach to peacemaking, and with others has enjoyed biking to the Pine Gap spy base in Alice Springs, planting an olive tree in the Hague Peace Palace and singing songs and making tea parties beside warships. In 2017 she was awarded the Sonia Davies Peace Award. Liz lives with her husband on the East Coast of the North Island.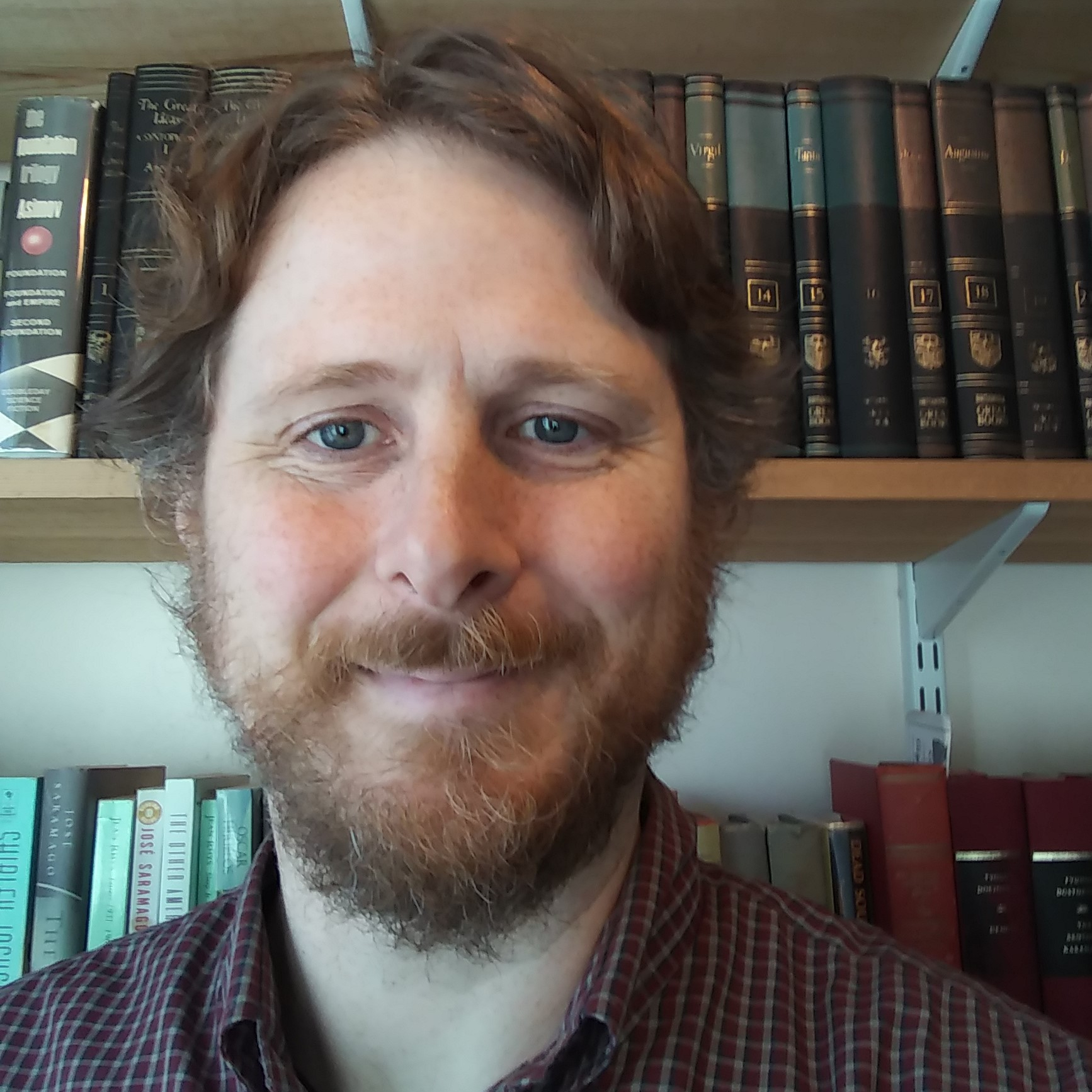 Lincoln Rice is the Coordinator of the National War Tax Resistance Coordinating Committee (NWTRCC). He possesses an undergraduate degree in Accounting and a PhD in Social Ethics. NWTRCC is a national war tax resistance group in the United States that has worked for nearly 40 years to provide support for individuals who refuse to pay for war with their tax dollars. War tax resisters put their values into action by reducing their taxable income (living simply) or through civil disobedience by refusing to pay some or all of their tax bill and redirecting that money to programs in their own communities. Lincoln can be reached at nwtrcc@nwtrcc.org.
Richard Sanders is a researcher/writer/activist who has engaged full-time in the peace movement since 1984 when he escaped academia with an MA in cultural anthropology. His efforts to debunk Canada's peace mythology began when coordinating Ottawa's Peace Resource Centre, producing a community anti-war radio program for almost 20 years, and being a local organizer with the Alliance for Nonviolent Action which culminated in the arrest of 150 at ARMX '89, predecessor of CANSEC. In late 1988, he founded the Coalition to Oppose the Arms Trade (COAT.ncf.ca). Its initial disARMX campaign, which included a conference, public inquiry, and march/rally of several thousand, precipitated Ottawa's 20-year ban on arms bazaars. COAT's magazine, Press for Conversion!, which he has produced since 1990, continues to expose Canadian militarism. He has written on Canada's arms exports, Canadian pension investments in weapons industries, Canadian military participation in the Iraq war, Canadian NGO support for the coup in Haiti, and the unassailable myth of Canada itself, a fiction based on genocide, xenophobia, land plunder and imperialism.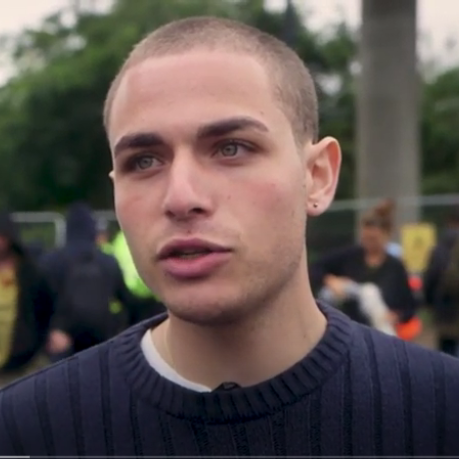 Daniel Selwyn is an educator and researcher with the London Mining Network (LMN), an alliance of 21 organisations working to expose human rights abuses and environmental crimes committed by mining companies based in London, and campaigning for social justice and the ecological integrity of the planet. His research focuses on the links between resource extraction, militarism, and British imperialism, recently authoring Martial Mining: Resisting Extractivism and War Together for LMN.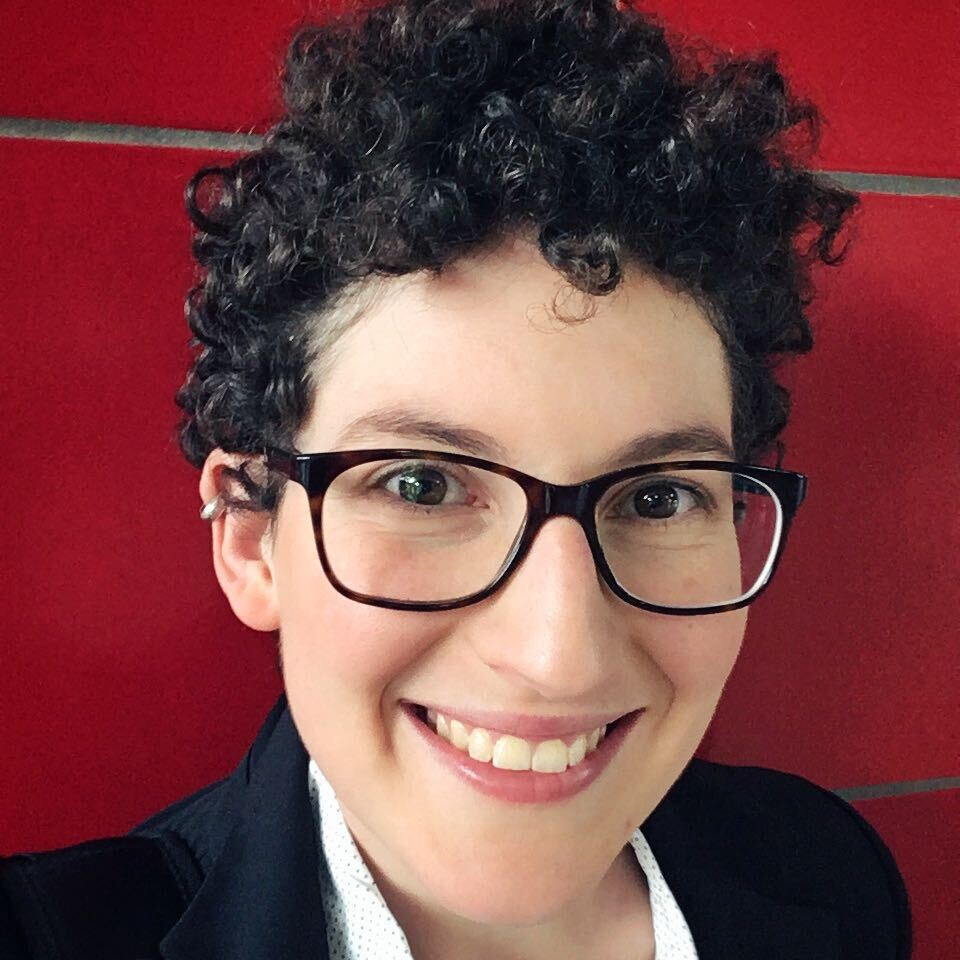 Rachel Small is a community organizer based in Toronto, Canada, on Dish with One Spoon and Treaty 13 Indigenous territory. She has organized within local and international social/environmental justice movements for over a decade, with a special focus on working in solidarity with communities harmed by Canadian extractive industry projects in Latin America. She has also worked on campaigns and mobilizations around climate justice, decolonization, anti-racism, disability justice, and food sovereignty. She currently organizes in Toronto with the Mining Injustice Solidarity Network and has a Masters in Environmental Studies from York University. She has a background in art-based activism and has facilitated projects in community mural-making, independent publishing and media, spoken word, guerilla theatre, and communal cooking with people of all ages across Canada. She lives downtown with her partner, kid, and friend, and can often be found at a protest or direct action, gardening, spray painting, and playing softball. Rachel is World BEYOND War's Canada Organizer and can be reached at rachel@worldbeyondwar.org.
Susi Snyder coordinates the Don't Bank on the Bomb research and campaign. She is an expert on nuclear weapons, with over two decades experience working at the intersect between nuclear weapons and human rights. In addition to the annual Don't Bank on the Bomb reports, Susi has also contributed to a number of recent books, including A World Free from Nuclear Weapons (2020), Sleepwalking to Armageddon: The Threat of Nuclear Annihilation (2017) and War and Environment Reader (2018). She has been featured in 360 Magazine, Quartz, the Intercept, Huffington Post, U.S. News and World Report, and on Democracy Now (among others). Susi is a 2016 Nuclear Free Future Award Laureate. Previously, she served as the Secretary General of the Women's International League for Peace and Freedom (WILPF) at their Geneva secretariat. Susi currently lives in Utrecht, the Netherlands with her husband and son.
Mary Beth Sullivan lives in Brunswick, Maine, near the General Dynamics-owned Bath Iron Works, where naval destroyers, fitted with Aegis weapons systems, continue to be built. She is a social worker who attempts to serve the needs of a growing homeless population in a time of diminishing resources. She is also active with the Global Network Against Weapons and Nuclear Power in Space.
David Swanson is an author, activist, journalist, and radio host. He is executive director of World BEYOND War and campaign coordinator for RootsAction.org. Swanson's books include War Is A Lie and When the World Outlawed War. He blogs at DavidSwanson.org and WarIsACrime.org. He hosts Talk Nation Radio. He is a Nobel Peace Prize Nominee. Swanson was awarded the 2018 Peace Prize by the U.S. Peace Memorial Foundation.
Dave Webb is a past-member of the World BEYOND War Coordinating Committee and chair of the UK Campaign for Nuclear Disarmament (CND), and well as Vice President of the International Peace Bureau (IPB), and the Convenor of the Global Network Against Weapons and Nuclear Power in Space. Webb is an Emeritus Professor of Peace and Conflict Studies at Leeds Beckett University (previously Leeds Metropolitan University). Webb has been involved in the campaign to scrap the UK Trident nuclear weapons system and has also focused on campaigning to close two U.S. bases in Yorkshire (where he lives) – Fylingdales (a missile defence radar base) and Menwith Hill (the huge NSA spy base).
Lynda Williams is a physics professor who has been actively working with the Global Network Against Weapons and Nuclear Power in Space for over two decades to prevent war in space. Her expertise is missile defense, nuclear power, weapons and space development. Most recently she has been organizing in Hawaii with indigenous communities to help prevent the expansion of missile defense and the construction of the Homeland Defense Radar on sacred Hawaiian lands. Lynda is also a singer songwriter and performance artist whose passion is to educate, entertain and empower with music and science. For more information check out her website: http://lyndalovon.blogspot.com/.